Joyful Retirement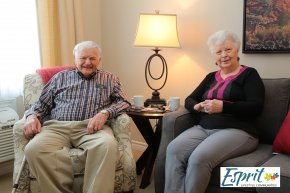 I had the great privilege of joining the Extendicare team in early March 2016. Extendicare is relatively new to the retirement segment and I am proud to be able to lead our continued growth in this area. Extendicare acquired our first retirement community, Empire Crossing, in October 2015. We then bought three more in December 2015; Harvest, Stonebridge Crossing and Riverbend Crossing. We added two more in February; Yorkton Crossing and West Park Crossing, bringing our total complement up to five communities with three more under construction. We are branding these communities under the name Esprit Lifestyle Communities.
"Esprit" means spirit and liveliness and we think that this captures what we want our communities to embody. We believe that a joyful retirement comes from extended vitality of the whole self and that is what we strive to offer.
Our residents enjoy life to its fullest every day through a variety of fitness, creative expression, cultural and intellectual, recreational and community service activities that promote an active adult lifestyle. They can choose from a variety of personal support services according to individual needs and preferences.
I am proud to say the Community Teams build genuine relationships with our Residents. Whether the service they deliver is care oriented, or hospitality based, the needs and desires of the individual are well understood and honoured. At Esprit, the benefit of service is reciprocal, and we know that we can gain as much by giving it, than a resident gains by receiving it.
I'm also proud to say that solutions we provide, and the service we deliver benefits our families as well. We help family members realize that when their loved ones move in to one of our communities, they are putting themselves in a great situation, where they are surrounded by friends, are well supported, and have a new approach to independence.
I am excited to see the future of Esprit Lifestyle Communities as we continue to grow and build communities that help residents and families live life to the fullest.
By Mark Lugowski, Vice President - Esprit Lifestyle Communities